The agile manifesto was born at the beginning of the millennium as a concept to develop software more efficiently overflows the technical area to influence all the activities of companies.
In 2018, I have known the agile concept applied to the activities of companies. For the simplicity and effectiveness of the agile context, I wish for my clients an agile 2019 year and develop the most important projects with an agile mentality.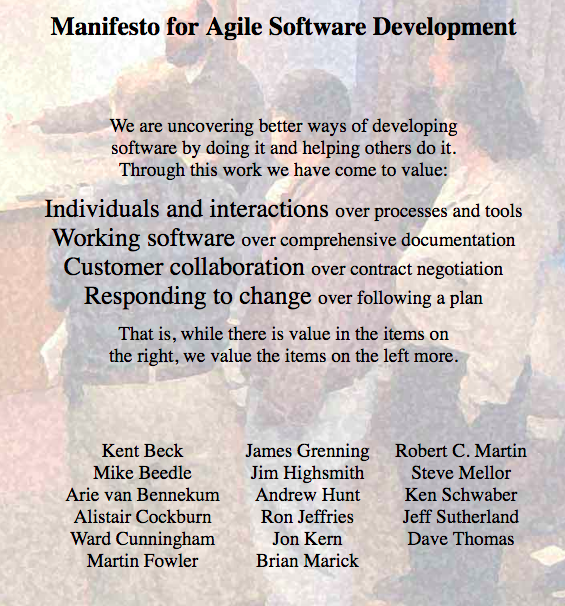 Continue Reading...
Colabora para que las personas sin hogar puedan comer bien y en compañía.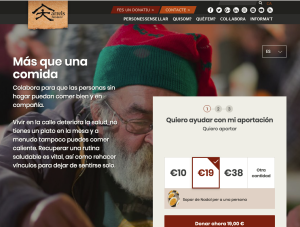 Vivir en la calle deteriora la salud, no tienes un plato en la mesa y a menudo tampoco puedes comer caliente. Recuperar una rutina saludable es vital, así como rehacer vínculos para dejar de sentirse solo.
Continue Reading...
Esta frase se atribuye a Platón y sin embargo en el siglo XXI continua siendo válida, más que nunca.
A través del juego nos mostramos cómo somos, sin que el miedo intervenga a modo de saboteador.  Desde hace más de 4 años en todas mis sesiones de equipos introduzco algún juego que permita conectar al grupo desde una perspectiva inédita para muchos.
Continue Reading...
LO MÁS IMPORTANTE
EN UNA NEGOCIACIÓN
ES
ESCUCHAR
LO QUE NO SE DICE
- Peter Drucker -
Continue Reading...
Terminé mi curso GAMIFICATION en Institutuo Universitario Transpersonal en Puebla,  México.
Muchísimas gracias a todos los alumnos !!. Me he sentido como en casa. Un grupo increíble, diverso, muy inteligente y participativo… y nos lo hemos pasado bien !!!!!.
Continue Reading...
It is very important to distinguish the activity related to the coaching that has to do with the consultancy. Especially not to lie to clients when dealing with projects with changed names and different expectations.
The publication I refer to below focuses on the essential differences between these two activities and approaches to assist individuals and companies.
Over the years, I have come across a lot of potential clients who have been gravely mistaken in thinking that the terms "executive coaching" and "business consulting" are one and the same, or simply put — synonymous to one another. This is not the case, as there are major difference between the two professions. As an Executive Coach and as an experienced management professional who has dealt with management consultants over the years, I am here today to highlight the top 3 key differences between the two so you can get gain a better understanding of what exactly those differences are and what they entail.
Agenda. Executive Coaches have NO agenda but to help the client get what he or she wants. Other than that? Nada. None whatsoever. Although a coach definitely will have expertise in certain fields, whether that is HR Strategy, Operations Management, Psychology, etc., a coach's main expertise is the process of coaching itself. On the flip side, business consultants do have an agenda and some possible solutions, and they bring those solutions and agendas to their clients. At the same time, they are experts in specific fields.
Client is the ultimate expert. Although a coach can and may in certain circumstances, suggest ideas from his or her knowledge base, experiences or right from their intuition; an Executive Coach accepts that the client is the ultimate expert and has the power within him or her to the answers of the challenges the client faces. While on the other side, business consultants promote themselves as the experts in the challenges the clients are facing. However, the problems that the clients are usually facing are not something that business consultants will be able to address at all.
Tasks. Management consultants help businesses improve their performance and grow by solving problems and finding new and better ways of doing things. While an executive coach will bring about the effective change the client is facing, they achieve this by helping through becoming a trusted advisor who promotes a confidential and safe environment in which the client will explore his or her concerns and issues. The executive coach will identify and focus on developmental issues, growth needs, leadership skills, behavioral traits, and goals at the executive level.
Un artículo publicado por highenergyexecutive.com  y recomendado por la ICF, me ha sorprendido por la claridad de su planteamiento  respecto a la utilidad del coaching ejecutivo.  Especialmente en el planteamiento del ámbito de actuación:
"El coaching ejecutivo no se centra exclusivamente en el desarrollo y el desempeño de un alto cargo de una organización, se ocupa  también del equipo y la organización. Es útil como herramienta para fomentar el desarrollo, el crecimiento, la mejora de la curva de aprendizaje, mejorar la satisfacción laboral, trabajar las relaciones interpersonales, aumentar la conciencia de uno mismo y aumentar el rendimiento,  entre otras muchas razones."
En el post citado se enumeran 5 factores clave para la efectividad del coaching ejecutivo además del enfoque inicial que ya he comentado. En este enlace podéis acceder al resto del artículo.
Por lo tanto, estamos de acuerdo en que la actuación del entrenador personal  no debe limitarse a una sola persona para ser efectiva. En las organizaciones su  cultura, la relación entre las personas, entre los distintos equipos y los líderes; también forman parte fundamental del proceso de coaching,.  En mayor o menor medida un enfoque sistémico es imprescindible.
Continue Reading...
Me ha llamado la atención el documento publicado desde www.coactive.com. El motivo es cómo una actividad experiencial incluye a personas con discapacidades que no les permiten atender los cursos de forma presencial.
El apartado 3 del informe apunta a la co-inclusión como un modelo válido y de máximo respeto mutuo:
"Evoke Mutual Inclusion
The third principle, evoke mutual inclusion, is the alchemy that is possible when we align with the first two principles in relationship to people who have a perceived disability or other unique challenge. We look beyond the needs of a specific individual or accommodation and explore how honoring these needs can enhance and elevate the learning and experience of all. To ensure that this alchemy is not momentary, this principle also suggests a practicalstep: the commitment to remain in discussion about our experience as the relationship grows.
In the Co-Active® model, the idea of a "designed alliance" provides the foundation formaking explicit a set of agreements, which can be adapted over time, about how bothparties will continue to address wholeness without diminishing the reality of the uniquechallenge the person with a disability faces."
Continue Reading...
I agree with this article published in The coaching tools company  by David Frank Gomes.The prejudices about the work of the coach and their results still exist, sometimes promoted by ignorance, other times from the interests of other groups competing in personal support services..
"One of the ways I think coaches can help themselves become more empowered is being familiar with some of the central myths around coaching. The truth is, although business and executive coaching is fairly ubiquitous, personal coaching is still in its infancy. And there are a tremendous amount of sticky sweet self help slogans out there that I believe do more harm than good…..
Continue Reading...
El próximo viernes imparto una sesión de gamification en el marco de IBERCIDE, para la transformación empresarial, iniciativa de IBERCAJA.:
TRANSFORMACIÓN EMPRESARIAL. LA GAMIFICACIÓN COMO HERRAMIENTA PARA LA GESTIÓN DEL CAMBIO
Gamification o ludificación es un nuevo término que se utiliza para calificar el manejo de herramientas de ocio y juegos en el mundo de la empresa.
Se espera que para los siguientes tres años, el mercado de la gamificación crezca hasta un 48% según Research and Markets.
El juego es la herramienta más efectiva para el aprendizaje y la gestión del cambio.
Entendemos por "gamificación" introducir juegos en actividades no recreativas para el mundo empresarial. Todos somos conscientes de lo laborioso que resulta introducir cambios en las empresas, necesarios dado el actual entorno cambiante dentro del mundo empresarial. La adaptación al cambio ya es el primer factor de éxito de las empresas que triunfan y exige herramientas muy eficaces.
En esta sesión gratuita presentamos dos cursos realizados con herramientas de gamificación: Innovación para no innovadores y Cohesión de equipos. Te esperamos para abrir una ventana a este nuevo mundo en el que a través del juego aprendemos y motivamos a la vez.
AGENDA
9.00 Bienvenida.
9.10 Warm-up.
9.30 Herramienta visual Points of you.
10.00 Aplicación cohesión equipos.
10.20 Aplicación innovación.
10.40 Presentación taller Cohesión equipos y taller Innovación para no innovadores.
10.50 Conclusiones, preguntas, feed-back.
MAS INFORMACIÓN Y SUSCRIPCIONES AQUI
Continue Reading...
"No recibimos sabiduria,
la debemos descubrir por
nosotros mismos, después
de un viaje en tierra salvaje
que nadie puede hacer
por nosotros, para nuestra
sabiduria es el punto de
vista desde el cual venimos
por fin a observar al
mundo."
Marcel Proust
Continue Reading...